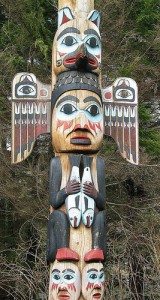 When it comes to writing, what works on TV or in print doesn't necessarily work on the Web. Stories that begin with an anecdotal lead may send online readers clicking away, if they can't figure out quickly what the story is about.
Many broadcast journalists have taken to rewriting their stories for the Web by simply adding a new top in traditional print style. But the inverted pyramid  may not work that well online either.
Jacqui Banaszynski, a prize-winning journalist who now teaches at the University of Missouri, suggests a different approach: a totem pole. Instead of lumping the who, what, when, where, why and how at the top of the story, give each element its own label, summary and link.
At a workshop for business journalists, Banaszynski offered five additional things to keep in mind to improve Web stories:
1. Priority: Be clear about what's important to know fast. Answer the reader's immediate questions high in the story.
2. Clarity: Make understanding immediate and easy.
3. Efficiency: Subheads and bullets help to organize your writing and package it in a way that helps your readers.
4. Brevity: Studies show that readers take snapshots of information, meaning they are looking for information in quick, scanable bursts.
5. Common sense: Use unanswered questions as part of your story. Don't write around unanswered questions, something that frustrates readers.